~ Rock N Roll Rewind ~
38 Special & Loverboy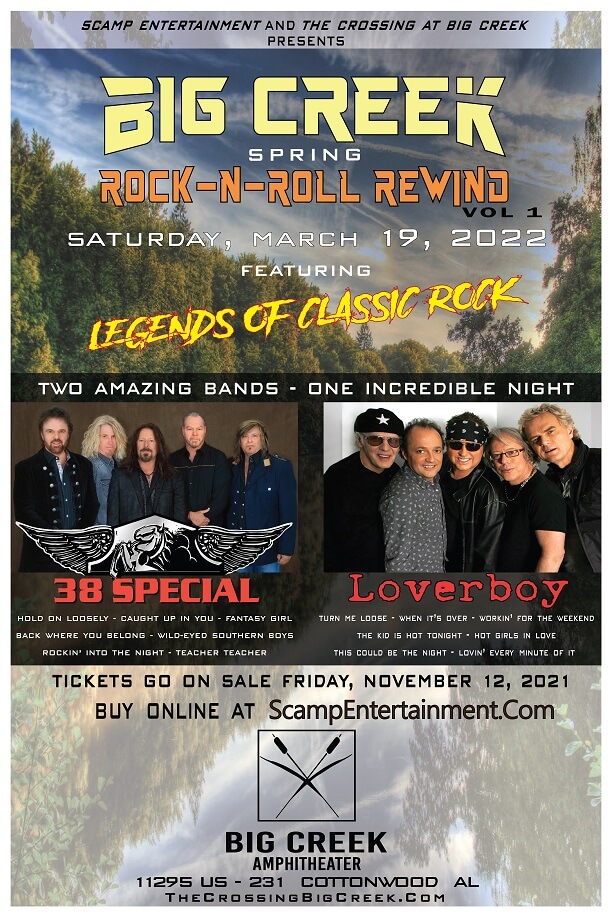 Saturday, March 19, 2022 || 7–11 PM
~ Cottonwood, Alabama ~
Scamp Entertainment & The Crossing At Big Creek, "BIG CREEK AMPHITHEATER"... Southeast Alabama's premier outdoor concert venue. Big Creek Amphitheater is a 5,000 plus natural-seat concert venue. We are immensely proud to present this Spectacular Classic Rock Event..."Rock N Roll Rewind" featuring 2 Powerhouse "Legends of Classic Rock" performing on 1 Incredible Night ~ featuring 38 Special & Loverboy... Live In Concert! Get ready for some serious rock-n-roll!
After more than four decades together, 38 SPECIAL continues to bring a signature blast of Southern Rock to over 100 cities a year. And at each and every show, thousands of audience members are amazed by the explosive power of the band's performance. Bringing a long history of classic songs..."Hold on Loosely," "Rockin' into the Night," "Caught Up in You," "Fantasy Girl," "If I'd Been the One," "Back Where You Belong,' "Chain Lightnin," "Second Chance,"...and many more timeless hits, as well as surprisingly fresh new material.
For more than 40 years, LOVERBOY has been "Working for the Weekend" (and on weekends), delighting audiences around the world since forming in 1978, without question one of the Hottest bands to emerge on the Canadian scene ...LOVERBOY's reputation as a live act, has always been its calling card, as the group continues to entertain fans of all ages. Their string of hits includes, in addition to the anthem "Working for the Weekend," such arena rock staples as "Lovin' Every Minute of It," "This Could Be the Night," "Hot Girls in Love," "The Kid is Hot Tonite," "Turn Me Loose," "When It's Over," "Heaven In Your Eyes" .
So please join us, as we kick-off our inaugural "ROCK N ROLL REWIND" event series featuring two spectacular Legends of Classic Rock! Thank you and we hope to see you there!!
The Crossing at Big Creek
11295 South Highway 231
Cottonwood, AL 36320
(334) 803-8138
Tickets on Sale Now!
There will be different ticket options presented - $42.00 -to- $119.00 - with many options to enjoy!
Presented By Scamp Entertainment
A Panama City, Florida Events Company.
READ MORE