Survivors Jam 2020
Celebrating A Tradition of Perseverance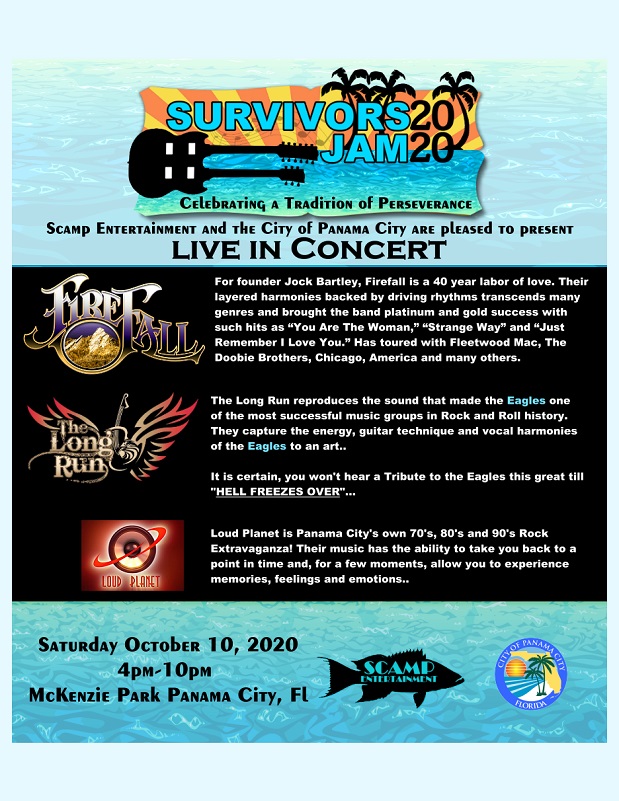 Saturday, October 10, 2020 || 4:00 PM – 10:00 PM
FireFall – For founder Jock Bartley, FireFall is a 40 year labor of love. Their layered harmonies backed by driving rhythms transcends many genres and brought the band platinum and gold success with such hits as "You Are The Women," "Strange Way" and "Just Remember I Love you." Has toured with Fleetwood Mac, The Doobie Brothers, Chicago, America, and many others.
The Long Run – Reproduces the sound that made the Eagles one of the most successful music groups in Rock and Roll history. They capture the energy, guitar techniques and vocal harmonies of the Eagles to an art. It's certain, you won't hear a Tribute to the Eagles this great till "Hell Freezes Over"…
Loud Planet – Panama City's own 70's, 80's, and 90's Rock Extravaganza! Their music has the ability to take you back to a point in time and, for a few moments, allow you to experience memories, feelings and emotions.
No tickets, No cost, No Worries... just good times coming together as one community!
Presented By Scamp Entertainment
A Panama City, Florida Events Company.
READ MORE